The Making Of the Otter Man film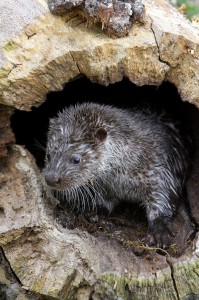 I thought this was going to be the easiest film project I have ever made: a portrait film with some wildlife in my home country, Hungary.
As a wildlife filmmaker I used to travel to the most remote places of the planet with enormous equipment. This time it was only jumping into my car and driving to a relatively close place that I knew pretty well. It seemed to be an easy task especially that in this case I had plenty of time: almost a full year!
Well, I just could not have made a bigger mistake…
As a sort of warning we already had a difficult start. This was the story of a man who saved otters from extinction in Hungary. He used to go out to track these secretive animals in wintertime. We pictured the first scene in a beautiful snowy landscape in which our protagonist was looking for otter footprints in the fresh snow. But the winter of 2006/2007 turned out to be the warmest one in the past 120 years!! There hasn't been a single snowflake at all!! I decided to give up waiting for the start in March when still no one has seen any snow cloud on the sky of Hungary – and I went to re-write the screenplay.
But there was a bigger problem…
We wanted to present the story of a little otter pup that we would have followed throughout the year until they release the animal back to the wilderness. Usually they find at least a dozen orphaned otter pups in Hungary during wintertime as the poor ones accidentally walk away from the den on the ice. But during this strange winter the temperature didn't drop under zero at all.
Finally there was good news! (er… only for us, filmmakers – not for an otter family). Hikers found a little pup and the small animal ended up in a little zoo in the countryside.
So, there we were just about to leave for the first shoot when they decided to relocate the pup to a so-called otter park! A woman, who was a beginner in raising otter pups became her new nurse. Again, I went to re-write the screenplay…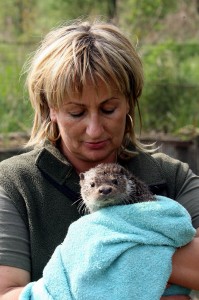 Finally, besides our "otter-man" she became the other protagonist of the film but at the beginning the two persons just didn't get along too well at all having totally different views about raising wild animals – a pain for the director but actually a good element in the story.
Then came a dramatic moment when it seemed that the little otter pup was going to die! Oh, my god this was too much for me. I went to a countryside pub and over a glass of local red wine I started to think about filmmaking and the possibilities of starting another job.
But, as one member from the producing crew said, there is sunshine after every rainshower. And indeed there it was!
Finally this became a wonderful shoot during which I have learnt a lot about my own country's landscape and wildlife… but also about the complexity of human relations. Moreover I must admit the otter pup Viki was the cutest creature I have ever filmed…
And did she survive? Well, we all love happy ends, don't we…?
Zoltan Török, Szigetmonostor, Hungary, 2007
PS: Breaking news! Viki the otter was released back into the wilderness at the end of 2008!  Since then no sign of her which is good news…
The intro part of the film: