Well, it's shocking to see that my last post is dated February 2012… and soon the year is over! It has been a busy one with the usual ups and downs of wildlife fimmaking. Plus a family moving from Sweden to Florida to shoot the Everglades film that I am working on until 2014. I was thinking about restarting the blog a couple ot times but somehow I have been waiting for a big thing to post. But what the heck is a big thing?? Missed a couple of opportunities for sure…
So, instead of waiting and always postponing the next post I just start again right now. And I promise regular updates in the coming new year…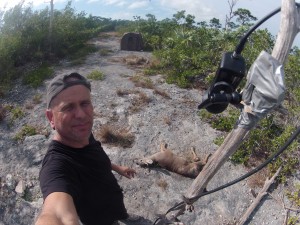 Here we go. Deer carcass story.
I heard from a biologist, who is a great photographer as well, that iguanas eat carcass. It was hard to beleive as they are herbivorous lizards, the kind of salad eating beasts. But he has even documented and published it!
Well, I immediately started to vision a scene with vultures and iguanas competing for the carrion… or at least the two species interacting. It's always cool to have such behavior in a wildlife film.
Here are the preparations, remote camera, dead deer, blind.
I have spent two days in the tent and I was lucky enough to have an iguana already in the second hour! Well, then for one and a half day nothing, only vultures and of course the nice smell of the dead animal (I was under the wind) and warm beer. I have a feeling that I know the secret how to really enjoy holidays!
And here are some shots from the blind, raw footage. Turkey vultures and a Black spiny-tailed iguana at a Key deer carcass.
HAPPY NEW YEAR!